Dec 2– On November 16, a threat actor posted on the Dark Web allegedly selling the phone numbers of nearly 500 million WhatsApp users. A recent analysis by Check Point Research (CPR) likely confirms this to be legitimate.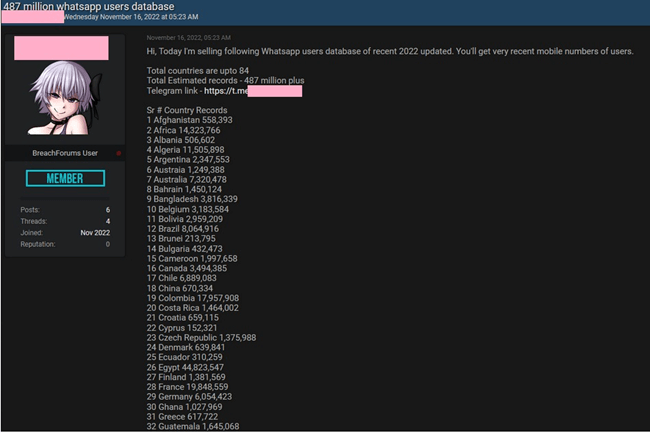 Source: Check Point blog
Following the reports that threat actors were selling WhatsApp numbers on the Dark Web, CPR analysts sifted through the sample and revealed that the leak contains 360 million phone numbers from 108 countries – rather than the 500 million that was reported earlier. CPR was also unable to confirm if the phone numbers belonged to WhatsApp users. The leak is potentially a rehash of the existing 2019 Facebook leak.
The full list of phone numbers was on sale for 4 days before being freely distributed among Dark Web users.
All WhatsApp users should be extra cautious about messages they receive, especially if the message contains a link.
For the full story, visit Check Point's blog. For more recent Twitter news, click here. Lastly, to receive more cutting-edge cyber security news,  best practices and analyses, please sign up for the CyberTalk.org newsletter.